Breathing Space, Fading Frontier
---
For every star, a story.
---
---
---
---
There is a great deal of space in the Sol system.
These are small stories of the people who fill it.
---
Listen to fragments of the lives of people belonging to three vastly different cultures-- Terrans-- planet-dwellers fighting to maintain the lives they've always known in an increasingly-precarious ecosystem, Belters--fiercely independent individualists, scraping out livelihoods on the asteroids and moons of the Sol system, and the Peregrination-- former refugees turned family, struggling simply to exist in the blackness of space.
New episodes the 1st & 3rd
Friday of the month An Audio
Science Fiction Anthology
As an anthology show, Breathing Space, Fading Frontier wants to bring together a collection of writers, editors, directors, and performers. As such, we're interested in hearing from potential collaborators.

See below for our current opportunities.

Updated 11/3/21
---
Writers
There are currently no opportunities open for writers.

Future openings will be listed here.
---
Voice Actors
There are currently no open casting calls.

Future openings will be listed here.
---
If you would like to financially support the show, you can do so by joining our Patreon.
Every life has a story. Is a story.

Some of those stories are epic. Spanning generations, reaching between the stars, describing the rising and falling of empires. Some change the rotation of the planets, push moons out of their orbits.

And some are smaller.

Some stories are of individual lives, personal tragedies and triumphs. Of people, just trying to get by. Trying to create identity, or understanding, or peace, or family in the chaos of the universe.

Trying to create breathing space.

But the Sol system has a lot of space.

These are stories of the individuals that live in that system, and the frontiers they explore to find their space.
---
Breathing Space, Fading Frontier is an anthology Science Fiction audio drama, telling stories written by a variety of authors in a shared, and collaboratively built universe.

Click here for more information about the cast and crew.

Episodes air on the first and third Friday of the month.
---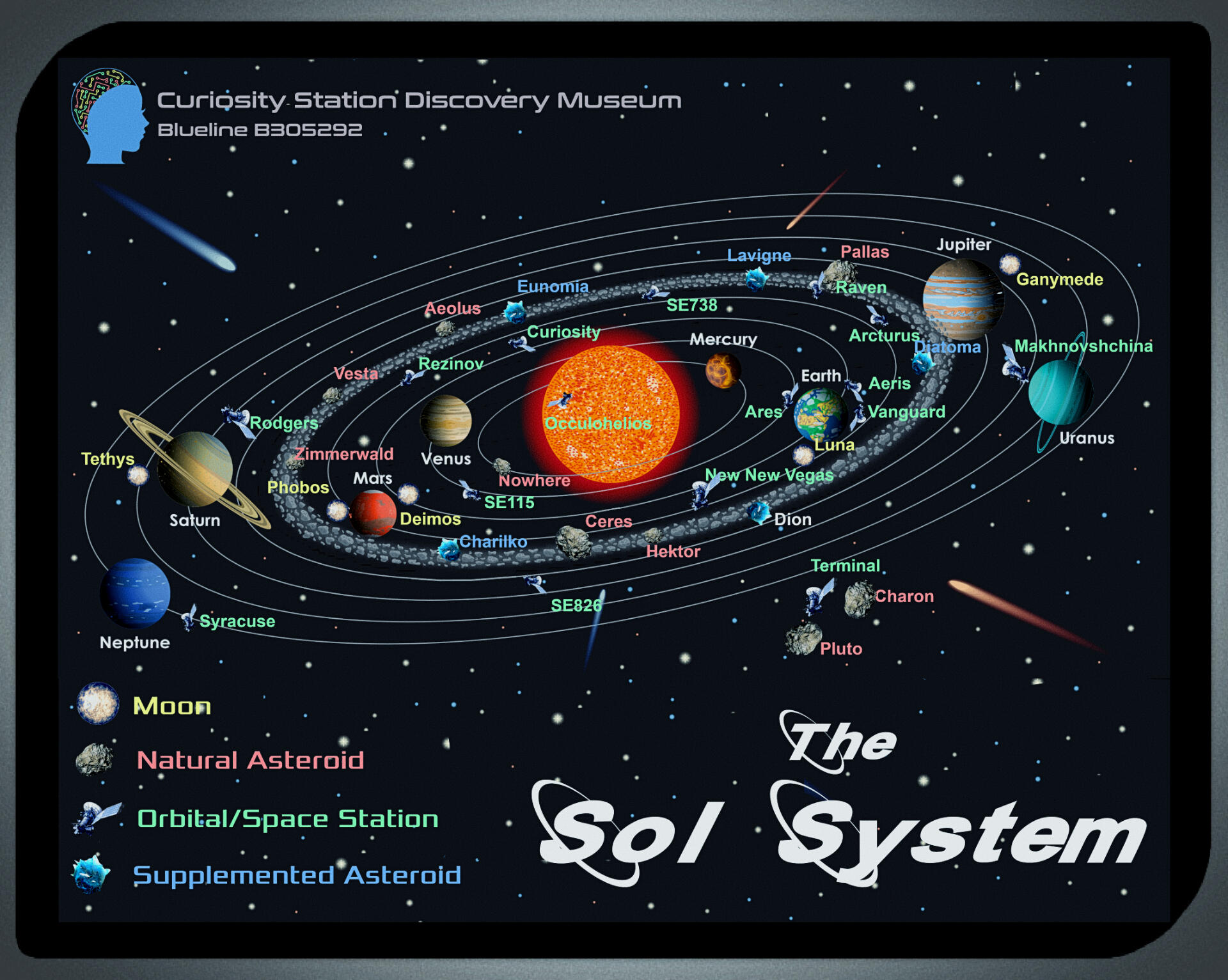 ---
Season 2
---
Coming March 4, 2022
[S02E01] My Stars Will Never Leave Me & On Rocky Ground
My Stars Will Never Leave Me Written by Lee Alder Ketcham Seguinte
On Rocky Ground Written by James Big
"I don't know...Is that what you're looking to hear? I don't know why we come out here. I don't know why we'd rather be falling into the sun in a plastic bag rather than safe and sound somewhere we can breathe as much as we like..."

Where is the line between friendship, and romance? Between rescue, and willful self destruction? In the immediate aftermath of the sentential storm, two shipmates learn the answers to both question.

---
"Ari, seriously, if you're receiving this you need to get back here now. We just lost telemetry for C-COWs across half the planet..."

A solar storm can kill a ship or rip a station to shreds, but what will it do to a couple on Mars whose relationship is already on the rocks? Does it push them together, or finish tearing them apart?

The Cast
My Stars Will Never Leave Me
Shan is played by JPG
True is Played by Mel Nichols

On Rocky Ground
Ariel "Ari" Attison is played by Vic Collins
July Lamarie is played by Meredith McKee
Rick Princip is played by M. German
The Computer is played by
York Ventura is played by Sean Gettys
[S02E02] The Long Way Home From Ceres
Written by Scott Paladin
"It was supposed to be a simple job. But in this line of work, there's so such fucking thing."

Dogwalkers take the jobs you can't put in the books. Sometimes, that's taking something for someone it doesn't belong to. Sometimes, it's bringing back something that does. This job is one of the latter. Grey's employer this time is very influential, and very wealthy. And currently missing a child. But when Grey discovers his quarry has been adopted by the Peregrination, things get a great deal more complicated.

The Cast
Farza is played by Christine Savage
Grey is played by Vic Collins
Link is played by Kasha Mika
Nandri is played by Devin Nelson
[S02E03] The Debt-End Job
Written by Thomas Flemming
"Don't go work for YuKon." My dad said. "You can always just get a job with me at OCP!" Well sorry, Mom! I didn't listen."

Two strangers meet at a bar. One is a disgraced former YuKon PR rep at the end of his rope. The other, a career criminal looking for his next score. They soon hatch a plan to steal from one of the richest people in the system. What could possibly go wrong?

The Cast
Korrine is played by Emma Johanna Puranen
Mik is played by M. German
Bridger is played by Vic Collins
Preston Jorgensen is played by Thomas Flemming
Chip is played by Paige Koch
[S02E04] Ships in the Night
Written by Olivia Cottle
Welcome to Waystation Markets, Store 369. How can we propel you through the stars today?

When you work and live on a Waystation Market asteroid, frequented only by people just passing through and refueling, with only your manager for company, you make your own fun. Price spends their shifts musing about the patterns they've recognized in the customers who stop here. Every stranger has a story, and Price wonders just how much they'll factor into those - or how much those factor into them.

The Cast
Price is played by Jerry Harris
Manager is played by Eryn Cerise
Big Shot is played by Cassidy Caruso
Curious is played by Cam Clark
Trouble is played by J.D. Jackson
Long Hauler is played by Emma Johanna Puranen
IWM Agent is played by Vic Collins
[S02E04] Solidarity Forever
Written by Lee Seguinte
Delivery! One anarchist, union-sympathizing ordnance handling, demolitions expert direct from Makhnovshchina, thanks to the YuKon 24-hours anywhere in the system guarantee!

The Intrastellar Workers Movement continues to fight for worker's rights and unionization against megacorporations like YuKon, and they've gained an unlikely leader. A small group of IWM members plan and execute an attack on one of the distribution nerve centers of the delivery giant, which happens to be in the middle of a space bus station.

The Cast
Carmine Rey is played by Paige Koch
Gabija Castor is played by Patrick Mendleson
Paysley Cogg is played by Bunny Eponine "Nine" Haidee is played by James Big
Manda Acterburg is played by Olivia Cottle
Angus Sparacello is played by Alberto J Garcia
[S02E05] Flicker of a Torch
Written by Corvyn Appleby
Any of these stars coulda burned out hundreds of years ago, but we can still stare up long after and not even know the difference.

Far from home, a soft-spoken traveler runs into a charismatic stranger in a bar. One tells a true story, and the other one tells a lie. Years in the past, two friends born and raised on an abandoned mining outpost find themselves on diverging paths - one wants to stay, and one plans to leave. Things fall apart, and when they do, they leave behind pieces to be picked up.

The Cast
Pa is played by Richard Kreutz-Landry
Lespie is played by Ally Amador
Brighter is played by Kale Brown
Murash is played by Kris Allison
[S02E06] Station at the End of the Universe & The Tale of the Knock at the Airlock
Station at the End of the Universe written by Charlie Neal
The Tale of the Knock at the Airlock written by Lee Seguinte
"Have you ever heard of the Station at the End of the Universe? It is told on planets, ships and space stations alike, one that is told late at night... Some say it's a bright place... Others say it's derelict and in ruins... Its appearance changes depending on who you ask about it. But you'll always find someone who has seen it.

As five friends depart Venus after reuniting, they take time to talk and share their experiences "at the Station" and learn that all of them had terrifying and unexplainable experiences.

--
Do you even know what's out there? Corrosive air hot enough to melt lead! Billions of kilograms of pressure. There are clouds of sulfuric acid just floating around!

A troop of Venusian Solar Scouts and their fearless leader take an overnight trip to a surface observation and survey station. But what starts as a chance to work on some badges turns into a very strange, and more than a little scary, experience in the dark.

The Cast

The Station at the End of the Universe
Ember Smauk is played by Eryn Cerise
Devan Heights is played by Quill Turner
Myllis Tanaka is played by Paige Koch
Luke Kingsley is played by Charlie Neal
Yue Tanaka is played by Ayumi Shinozaki

The Tale of the Knock at the Airlock
Gary is played by Thomas Flemming
Ayrik is played by Christine Savage
Frank is played by Arielle Click
Keekee is played by Rebecca Kraus
Kris is played by Justin Joyce
The Shuttle Pilot is played by Charlie
[S02E07] Let Sleeping Dogs
Written by Scott Paladin
Here's the deal, this is happening, and you're going to find a way to be fine with it, or you're going to have to learn how to breathe vacuum.

The crew of the freighter Six Foot Weaver try to capitalize on an opportunity for some quick salvage, but what should have been easy money instead wakes a dormant danger.

The Cast
Ridley is played by Alice Kyra
Cameron is played by Rebecca Krause
Romero is played by Zach Jaquays
Carpenter is played by Erika Kaiser
Raimi is played by Scott Paladin
[S02E08] Felina, Goodbye
Written by Erika Kaiser
You come all this way, kid, on what? Some kinda holy quest, some kinda journey? So desperate for that absolution I was talkin' about that you'll haunt an old man with hope?

An old gunslinger-turned-cricket-farmer gets pulled out of retirement for one last ride to save Felina, the love he thought was lost.

The Cast
Theo is played by Scott Paladin
The Kid is played by Jem
Mason is played by M. German
[S02E09] The Train Job
Written by Lee Seguinte
"Does life in the black always end up with someone jumping out the airlock of a ship in motion, kilometers away from anything else with atmo and relying on exo suit thrusters to get them to a ship with a jerry-rigged remote hatch lock, before their O2 runs out?"

Two familiar faces work together to steal something a very rich person doesn't need and give it to another very rich person who doesn't need it, as it's transported from Luna to the Ganymede Exotic Floral Exhibition. It's a flawless plan, but they didn't count on running into the law.

The Cast
Alfee Augusto is played by Scott Paladin
Marshall Layla Bird is played by Erika Kaiser
Marshal Mack Reyez is played by Ryan Astheimer
Anse is played by Quill Turner
Gasto is played by Corvyn Appleby
[S02E10 Ride, Boldly Ride
Written by Scott Paladin
"Shay Russell, you are under arrest, pursuant to Article two of the—Dusty get your goddamn hand off your gun before I blow it off—pursuant to Article two of the Ceres Accord, I am empowered to take you into custody for transportation back to the jurisdiction of import."

Raven Station's new sheriff, Luce, arrests a dangerous criminal and comes under threat. Aided only by Brother Argyre, a wanderer who has Heard the Call, they must fend off the criminal gang, led by Luce's old mentor and friend.

The Cast
Brother Argyreis played by Interiority Luce is played by Emma Johanna Puranen
Shay Russel is played by Thom Freitag
Nathe Russel is played by Scott Paladin
[S02E11] The Real Thing
Written by Scott Paladin
Summary Here

The Cast
Tora Zanches is played by Kris Allison
Eka Amityskin is played by Rue Dickey
Ettienne Calsdottir is played by Christina Mcclain
Evie Yurisdottir is played by Jeremiah
Yuri Arturoskin is played by Scott Paladin
[S02E12] The Gambler
Written by Lee Seguinte
"Don't matter, in the end. They're just words. Person who wrote 'em's long since turned to dust. Guess that's how we all end up, one way or t'other. Words matter more when they're all you got left."

On a warm summer's evening, on a train bound for nowhere, I met up with the gambler. We were both too tired to sleep. So we took turns staring out the window at the darkness, the boredom overtook us, and he began to speak.

A conversation between two men on a long space flight about family, belonging, and loss.

The Cast
Bel Lamar is played by M. German
Daequin is played by JD Jackson
Kinten Lamar is played by Rue Dickey
Loren Naught is played by Steven Zivic
Rake is played by Kris Allison
Ferrah is played by Evan Saft
Jond is played by Kale Brown
Terra
As the origin of all life in the System, Terra sees itself as the natural source of leadership for humanity. However, given the fact that Terra's many terrestrial governments do not agree about how that leadership should be structured, it seems unlikely that this will ever come to be.

As likely to fight amongst themselves as against extra-terrestrial forces, Terra has yet to come together enough to address the many pressing environmental crises that plague it. A densely-populated planet, it is home to approximately 75% of humans, living in the ever-shrinking habitable land available between the rising oceans.

No matter what they say about the planet publicly, most Belters, and many inhabitants of other planets view Terra as an almost paradisal place, and Terrans as soft and spoiled by its bounty.
The Belt
Referring generally to all non-planetary settlements in the system, the Belt is made up of a range of human-occupied spaces, including terraformed asteroids, habitat bubble communities, space stations, mining rigs, and all the various independent ships that travel between them.

Fiercely insistent on individual autonomy and independent government, there is not a single authority in the Belt speaking for all its inhabitance. Though generally bound by the Ceres Accords, each community has the right to make and enforce their own system of laws.

Despite, or perhaps because of, their almost fanatical need for self-determination, Belter culture hinges on voluntary collaboration, and the voluntary sharing of resources, labor, and information.
The Peregrination
The Peregrination, or the Family, as they refer to themselves, is a tightly-knit, insular community of people living on large space ships, constantly at motion in the spaces between the stars and stations of the System.

The survivors of a tragedy several generations prior that left them refugees, the Peregrinationals have turned their lack of a stable homeworld into a source of strength and community.

Though they interact with the other governments of the System, they remain apart and outside from the struggles for power over both territory and resources that embroil Terra and the Belt.