Breathing Space, Fading Frontier
---
For every star, a story.
---
---
---
---
There is a great deal of space in the Sol system.
These are small stories of the people who fill it.
---
Listen to fragments of the lives of people belonging to three vastly different cultures-- Terrans-- planet-dwellers fighting to maintain the lives they've always known in an increasingly-precarious ecosystem, Belters--fiercely independent individualists, scraping out livelihoods on the asteroids and moons of the Sol system, and the Peregrination-- former refugees turned family, struggling simply to exist in the blackness of space.
New episodes the 1st & 3rd
Friday of the month An Audio
Science Fiction Anthology
As an anthology show, Breathing Space, Fading Frontier wants to bring together a collection of writers, editors, directors, and performers. As such, we're interested in hearing from potential collaborators.

See below for our current opportunities.

Updated 11/3/21
---
Writers
There are currently no opportunities open for writers.

Future openings will be listed here.
---
Voice Actors
There are currently no open casting calls.

Future openings will be listed here.
---
If you would like to financially support the show, you can do so by joining our Patreon.
Every life has a story. Is a story.

Some of those stories are epic. Spanning generations, reaching between the stars, describing the rising and falling of empires. Some change the rotation of the planets, push moons out of their orbits.

And some are smaller.

Some stories are of individual lives, personal tragedies and triumphs. Of people, just trying to get by. Trying to create identity, or understanding, or peace, or family in the chaos of the universe.

Trying to create breathing space.

But the Sol system has a lot of space.

These are stories of the individuals that live in that system, and the frontiers they explore to find their space.
---
Breathing Space, Fading Frontier is an anthology Science Fiction audio drama, telling stories written by a variety of authors in a shared, and collaboratively built universe.

Click here for more information about the cast and crew.

Episodes air on the first and third Friday of the month.
---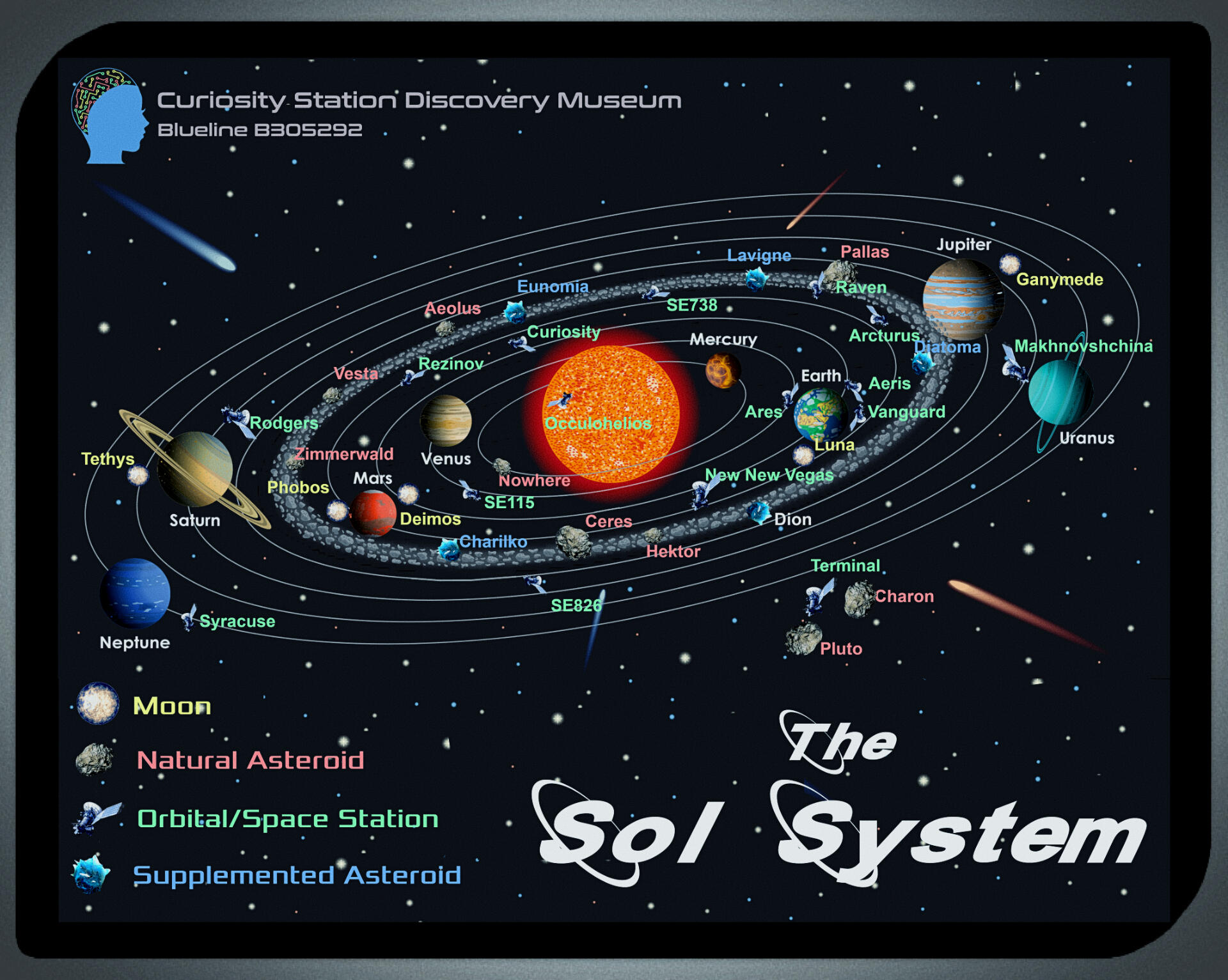 ---
Terra
As the origin of all life in the System, Terra sees itself as the natural source of leadership for humanity. However, given the fact that Terra's many terrestrial governments do not agree about how that leadership should be structured, it seems unlikely that this will ever come to be.

As likely to fight amongst themselves as against extra-terrestrial forces, Terra has yet to come together enough to address the many pressing environmental crises that plague it. A densely-populated planet, it is home to approximately 75% of humans, living in the ever-shrinking habitable land available between the rising oceans.

No matter what they say about the planet publicly, most Belters, and many inhabitants of other planets view Terra as an almost paradisal place, and Terrans as soft and spoiled by its bounty.
The Belt
Referring generally to all non-planetary settlements in the system, the Belt is made up of a range of human-occupied spaces, including terraformed asteroids, habitat bubble communities, space stations, mining rigs, and all the various independent ships that travel between them.

Fiercely insistent on individual autonomy and independent government, there is not a single authority in the Belt speaking for all its inhabitance. Though generally bound by the Ceres Accords, each community has the right to make and enforce their own system of laws.

Despite, or perhaps because of, their almost fanatical need for self-determination, Belter culture hinges on voluntary collaboration, and the voluntary sharing of resources, labor, and information.
The Peregrination
The Peregrination, or the Family, as they refer to themselves, is a tightly-knit, insular community of people living on large space ships, constantly at motion in the spaces between the stars and stations of the System.

The survivors of a tragedy several generations prior that left them refugees, the Peregrinationals have turned their lack of a stable homeworld into a source of strength and community.

Though they interact with the other governments of the System, they remain apart and outside from the struggles for power over both territory and resources that embroil Terra and the Belt.